The Minecraft Hour of Code tutorial aims to encourage millions of young people to try an hour of coding. The new tutorial – now available at code.org/mc – introduces players to basic coding within the fun and popular Minecraft environment. Created by Minecraft game designers together with Code.org, the tutorial features Steve and Alex from Minecraft, and Minecraft-inspired challenges that will be familiar to its more than 100 million players around the world.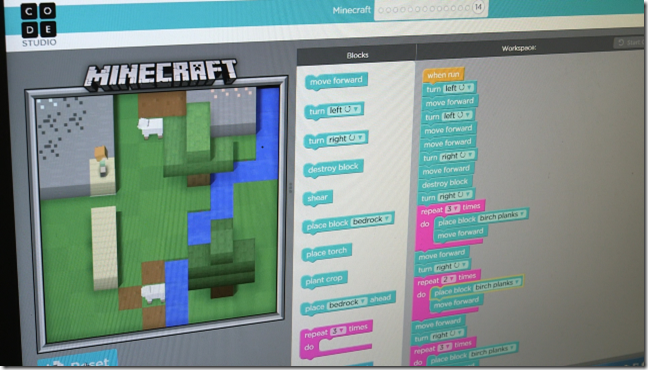 Join the House of Code ?
Microsoft Thailand will host the Hour of Code event with details as follows :
Date/Time: December 19, 2015 , 9:00-16:30
Venue: Microsoft Thailand office, 38th Floor, CRC Tower, All Seasons Place.
Registration : To reserve your seat please register at http://bit.ly/21i9Tsk ( And please prepare to bring your own computer )
Host an House of Code ?
Interested to host your own Hour of Code ? First, sign up your school or classroom to run an hour of code here. In order to provide you with everything you need to lead your own Hour of Code with the Minecraft Tutorial, we have prepared an Hour of Code Microsoft Event Toolkit and Readiness Center. In it you will be able to download a facilitator guide, quick tip sheet, PowerPoint slides, and brief orientation video. Register and download your Toolkit today, and get ready to lead your own Hour of Code.
Tags: #HourOfCode #HOCasia #MicrosoftTH
See Also:
*All resources for educators
*Get started with Visual Studio Code
* http://makezine.com/2015/11/19/teach-your-kids-to-code-with-one-hour-minecraft-puzzles/
* http://qz.com/555818/minecraft-themed-lessons-are-here-to-help-your-kids-learn-to-code/
* http://www.businessinsider.com/most-in-demand-jobs-around-the-world-2015-10
* https://mva.microsoft.com/training-courses/building-apps-with-node-js-jump-start
* https://www.khanacademy.org/computing/hour-of-code/hour-of-drawing-code/v/welcome-hour-of-code